Squid Salad's Tumblr is holding an awesome contest!  Dig it:
Hey lufflies! In honor of the upcoming holiday and as a thanks for all the love you've shown me at Squid Salad this year for the Pokemon vs Doctor Who comics Tim & I created (link & link), I'm giving away THREE full sets of POKEMON & DOCTOR WHO buttons from my Etsy Shop!
That's 18 one inch awesome buttons!!!
All you have to do is re-blog this POST on Tumblr to win!! {LINK}
¯`·.,_,.·´¯`·.,_,.·´¯PRIZES¯`·.,_,.·´¯`·.,_,.·´¯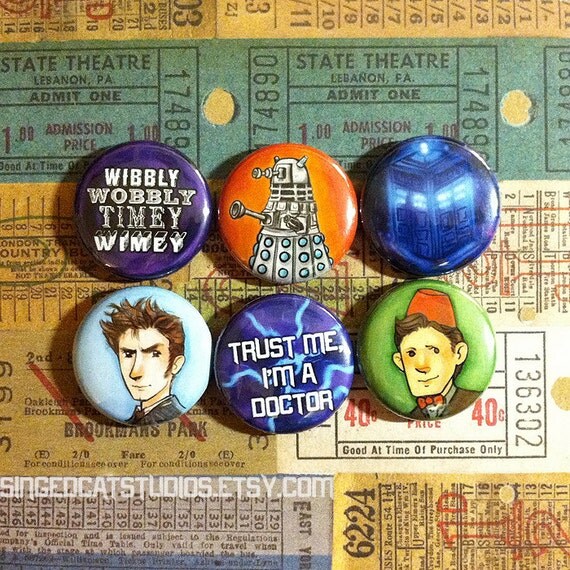 6 Doctor Who Buttons: "Wibbly Wobbly Timey Wimey", "Trust me, I'm a Doctor", David Tennant 10th Doctor, Matt Smith 11th Doctor, Dalek, and a TARDIS
12 Hipster Pokemon buttons: Pikachu, Mudkip, Evee, Psyduck, Snorlax, Charmander, Bulbasaur, Squirtle Missingo, Meouth, Chimchar and a secret mystery pokemon
¯`·.,_,.·´¯`·.,_,.·´¯RULES¯`·.,_,.·´¯`·.,_,.·´¯
– No limit on reblogs and likes
– THREE (3) Winners will be selected at random
– You can increase your chance of wining by reblogging, following, this tumblr or by liking Squid Salad on facebook
– Contest Start Dec 22. Winners announced December 24
– Winners have until Dec 26 to respond before alternatives are selected